- Miscellaneous
Location: Ormond Beach, Florida
"BARAAT COSTUMES AND MORE!"
MAROON & GOLD. Complete costume is now available. $550.00 + shipping.
You aren't logged in!
Logging in will turn on more features when you view ads.

We use quality upholstery materials and beautiful hand decorations to create the custom handmade equine costumes. The horse costumes are perfect for Baraat Indian Weddings, Medieval Times and other special occasions. Costumes can be custom made to fit any horse size. Each Baraat costume comes with a face piece, neck cover, breast collar, blanket, tail cover and 4 leg bands. Some of our other products include decorated umbrella covers, pony baraat costumes and more. Use your equine costume under or over the saddle or with harness when driving. Clean the horse costumes by hanging inside out and spray with a hose. The umbrella covers are hand-decorated and convenient to use and store. Custom harness saddle drapes for funerals or holidays are a great addition to your special events. Drapes are available in different colors and designs. Contact us today to get your equine or Baraat costumes or any of our other customized products.


This is a complete costume. Costume has face piece with attached neck piece, plumb with bridle attachment, neck cover, breast collar, blanket, tail piece, saddle cover and 4 leg bands. Priced at $600.00 + shipping
COMING SOON - IN PROGRESS
Umbrella covers. They go over a standard umbrella. Start at $100.00 each.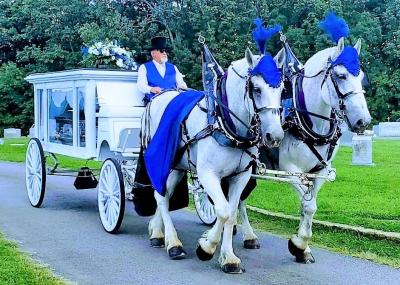 FUNERAL ADORNMENTS AVAILABLE. Harness drapes, crown pieces and matching feathers available in your choice of colors. Individual pieces available. Harness drapes come with or without a cross. angles or doves. E-mail for pricing.

For more information contact:
Patrica Mesick
Equine Costumes & More
491 Harbour Lights Drive
Ormond Beach, Florida 32174
Phone 386-334-4386
URL: http://www.equinecostumes.com



Ad Reference Number is 5fa0266b3510f
This ad has had 3501 hits since created on 2020-11-02
Last modified on 2023-05-23
Last renewed on 2023-04-27